Classic Room
---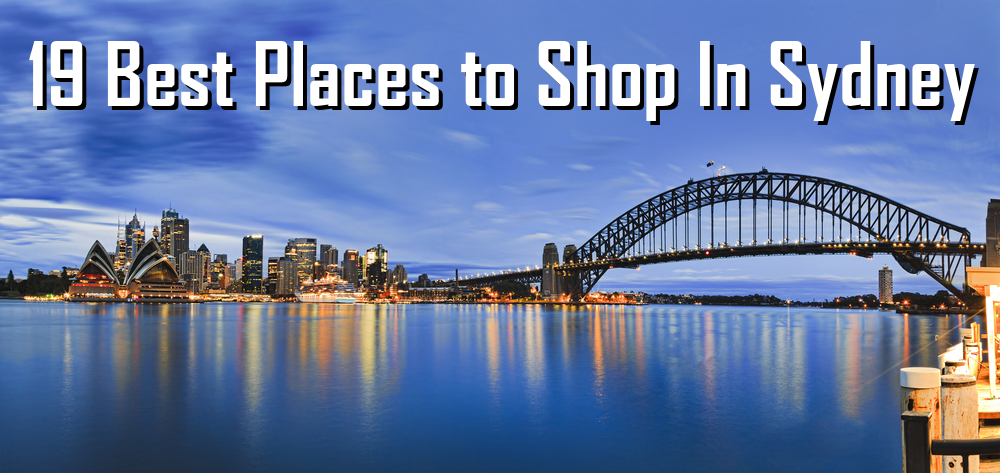 About the room
Shoppers Paradise: 19 Best Places to Shop in Sydney
---
What do you think of when you think of Sydney?Beaches? Clear skies? Breathtaking views or wildlife?
Maybe you are thinking of all the lip-smacking and intriguing food.
Well, yeah! You do get all of this and more in the lovely city of Sydney!
Obviously, there's more!
You must have thought about the nightlife and the high standard of living too. Ever wondered where they get their amazing looking stuff from? Right from clothes to food to random things you cram home with.
Take a look at the list to know all the saucy details so the next time you're in Sydney, you know exactly where to head first.
Bondi Junction, Westfield
You won't believe how many stores this place has! 400! Yes! It houses 400 stores ranging from the priciest brands, like Tiffany, Chanel, Louis Vuitton, and Dior to the departmental stores. The storey 5 building also serves some great food in its food court.
The Rocks Markets
Your Friday has been sorted because The Rocks market sets up shop from 9 am to 3 pm for all kinds of shoppers. You name it, you find it here. You can devour the bunch of chocolates they sell along with the yummy and warm crusty bread. You'll also find classier foods like lamb kebabs, wraps, and salmon. There are small scale designers who put up their clothes and art for sale while there's live music playing around you.
World Square
It's almost like a paradise for people who want to shop till they drop and eat till they can't move any more! It has a couple of radio stations so you might even run into some celebrity there. How exciting! The place is big enough to keep you occupied for the day. You'll also be able to see World Tower, the tallest skyscraper, from here. Two birds, one stone, what say?
Alexandria Outlets
The name gives it all away, doesn't it? There are high possibilities that you find amazing discounts. You reach Green Square by crossing the stores on Mcevoy Street, so that's another place to shop. It's going to be a great journey since you might find some nice kitchenware to take back home.
Birkenhead Point Outlet Centre
The place is right by the harbour which allows you to get a view while shopping for your favourite things. Also! It is the first factory outlet introduced to the public which means some of the top brands could be found at a 70% off. How crazy is that? Why would anyone let of such a chance?
DFO Homebush
Okay, the real name is too long, Direct Factory Outlet, and it doesn't sound too appealing either. So let's just go with DFO. It's THE place to go to for cheap clothes, home decor, kitchenware, etc. The best time to go early in the morning, right about when they open, so you're not met with a pool of people. And even when you're shopping in peace, you'll need to spend time to find the right things at the right price.
Paddy's Market
The market is around 150 years old and houses a ton of stalls that sell souvenirs, food, and the trendiest fashion. You won't be able to find branded goods here. This is where you'll be able to find vegetables and CDs from another time. That's new, right? Go ahead and visit Paddy's Market to get the real feel!
Glebe Markets
The Glebe market is flooded with creativity, and once you visit the place, you won't realise how fast time has gone by. The artists keep coming up with new ideas that will make you feel like you've entered paradise on earth. There will be musicians, live painters, and people who sketch, and even various craftspeople, subtly showing off their skills.
The Strand Arcade
You are going to fall in love with this building the second you lay your eyes on it! Really! The structure is absolutely gorgeous inside and out. And as amazing as the building is, the various items sold in there are even better. You'll be able to find the famous local brands in Australia. This will give you a chance to indulge in the real Australian flavours. Jewellery, chocolates, and clothes, you'll find everything here, in fact, at its best.
Sydney Fish Market
Agreed, this one's a little off topic, but it deserves a spot on this list. If you have the time to cook the fish you love, you should visit this place during your trip. The reason is simple, you'll be able to find your favourite fish here when it's fresh out of the water. They supply to some of the fanciest restaurants around Sydney, so you know you're getting the good stuff.
Broadway Shopping Centre
Okay, calm down. It's just the street that's called Broadway because of which the shopping centre has this distinct name. You will, although, find some astonishing stores that would be tough to find anywhere else in Sydney, so that's something to be thrilled about, right? You'll get to roam around in some of the most wondrous speciality stores too.
Westfield Warringah Mall
It's the perfect amalgamation of indoor and outdoor mall space. The outdoor space allows you to leave your children to play and shop without them continually hanging on your back. If you don't have kids, the outdoor space still works as a breather between the tons of shopping you'll be doing from all the speciality stores.
Harbourside Shopping Centre
Shop with a view, that's all there is to say. The centre is right next to the edge of the water which makes shopping that exciting! At night, you'll be able to admire the gorgeous skyline of the city. Do you know what else you're going to find here? A bowling alley! Can you believe that? Just put down Harbourside shopping centre on your list and go have the time of your vacation!
Queen Victoria Building
To find a Romanesque structure in Sydney would sound insane, correct? But no, it's not. The four-storey building is going to leave you asking for more of its beauty. If by any chance you're visiting Sydney during the Christmas holidays, you don't want to miss checking this place out. There are tons of amazing shops you can explore along with cafes that serve great food.
Pitt Street Mall
The street mall is always filled with localities having a good time. You'll find some truth to Australia souvenirs, starting from cheap, going up to super costly. Same goes for clothes too! You might encounter some great street music that further livens up the mall environment.
Chinatown
Located in the southern part of Sydney, this is Australia's largest Chinatown, so you can imagine the crazy amazing things you'll be able to find here. The area is famous for the authentic Asian dishes it serves, so if you're a foodie, you have to go eat here. The place also houses a few shopping options that you can explore followed by some mouth-watering food.
Newtown
The hip place to be, Newtown subtly, or not so subtly shows off its quaint little cafes, eye-catching graffiti, and handicraft stores, all while giving you some great memories to take home. The place stays hustling till late at night, so you have a lot of time in your hands to really take it all in.
The Intersection, Paddington
Moving on to a place where you're going to find some high-end fashion options, The Intersection, will blow your mind. You'll find brands like Manning Cartel, Zimmermann, and Dion Lee. You're screaming with excitement, aren't you? So go roam around the street with fresh air in your lungs and multiple shopping bags hanging from your arms.
Crown Hill, Surry
If you're anywhere close to being a fan of vintage clothes and accessories, Crown Hills is for you. You know the extremely dedicated stores Cream on Crown and Romance Was Born, right? Guess where you'll be able to find them. Yes! Right here. Shop till your heart is filled with butterflies.
So you see! There are so many places that you can explore if you're the king or queen of shoppers!
With a bunch of variety, Sydney will not fail to amaze you, and that's a bet any Australian would be willing to take. It's not one of the most appealing tourist destinations without reason!
All you have to do is a little research, and you'll find the most incredible places to fulfil your dreams of owning alluring possessions (whatever it is you want, for real!)
This article should've increased your enthusiasm and decreased the torture of research, so you are left with an abundant amount of time to let loose and chill before you have to go out shopping.
Liberty Plains Motel is a great option for you if you're looking to book accommodation in Sydney for your next vacation. We offer a wide range of amenities for your travel necessities. We're located in a great area, right near Olympic Park, surrounded by multi-cuisine restaurants, shopping streets and local leisure events being organised now and then.