Classic Room
---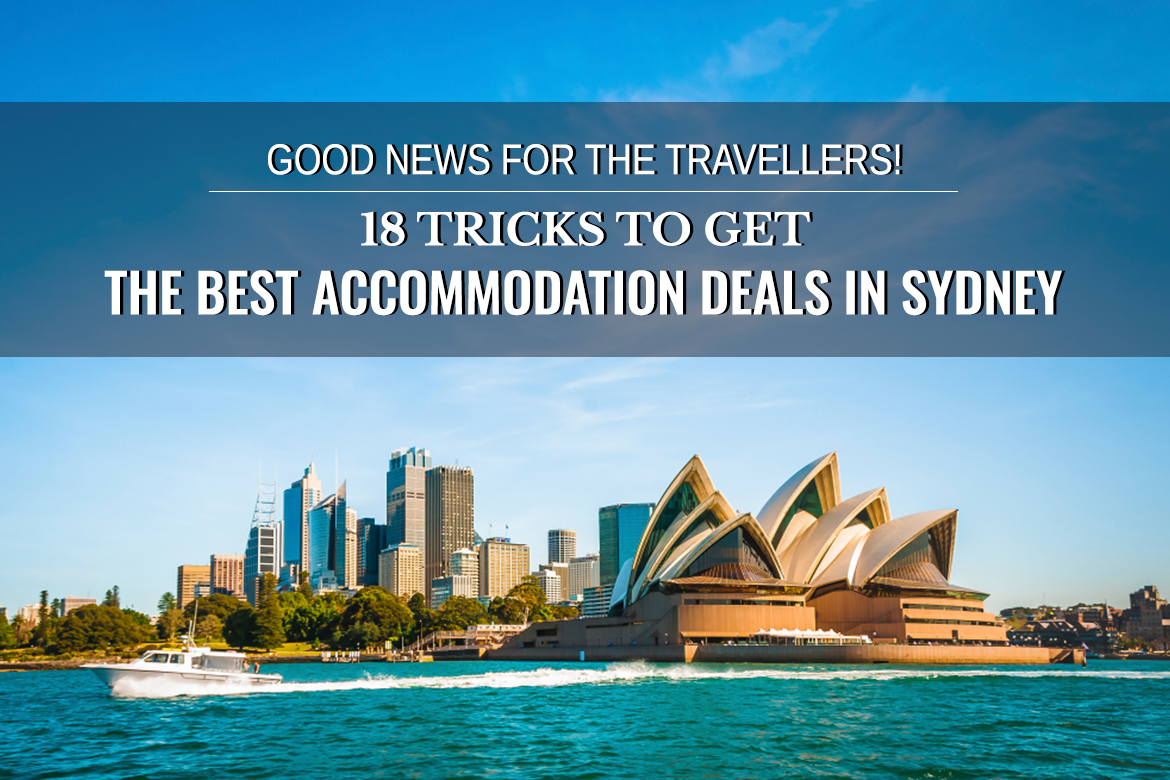 About the room
Good News For The Travellers! 18 Tricks To Get The Best Accommodation Deals In Sydney
---
"Where should I stay?"
It's the first question that comes to mind while planning to travel to Sydney. The reason for this question is that Sydney is one of the costliest cities in the world. To get accommodation at a reasonable rate is a blessing.
Whenever you plan to travel to Sydney, you can implement these tricks to get amazing deals on hotels so that you can spare some money on other activities. Investing money only for getting good sleep is not a good idea.
So, let's get started.
R

esearch about Sydney

It's useless if you stay at a cheap hotel accommodation miles out of town as you have to pay extra for transportation.

For example: if you are travelling to western Sydney near Olympic Park, then try to search for hotels near Sydney Olympic Park to be a part of a city.

Try to search for accommodation close to the central area so that you can get out and walk to most things and you can have easy access to public transport, airports, local attractions, etc.

This tactic will help you save a lot of money as well as time.
S

tay for more than one night

Many accommodation providers offer their best deals when you stay for more than one night. It can also happen that you get a deal like stay four nights, pay for three which can save you a lot of money. Such offers are prevalent, especially in the off-season.
G

o during mid-week

In certain locations like Olympic Park, avoiding busy Friday and Saturday night periods is a strategic way to find cheap accommodation. Here the catch, avoid travelling to big cities during a weekend if possible.

Just research accommodation website and get stunned by looking at the prices for accommodation during the weekend. It's triple the price of the original at some places.
T

ry apartments and share the costs

Go and stay in condos and holiday homes and enjoying some home-cooking in the apartment. It is one of our best travel tips on how to save money especially for families or small groups.

"Handy Tip: If you're travelling with other family or couple, stay in an apartment big enough and share the cost."

Apartments and rental homes are effective as they are usually cheaper and more practical than a hotel.
S

tay in a nearby town or outside the city centre

If you are unable to find cheap hotels in the city centre, staying slightly outside of the city will almost always save you money. If you don't mind the short commute to the city you might save a bundle.

For instance, if you want to travel ANZ Stadium in Olympic Park and you can't find cheap accommodation there, try to search for hotels near Sydney Olympic Park area like Lidcombe to get best prices.

But always remember the point #1, be careful that if you find accommodation way far away from the attractions, your plan to visit should not result in high transportation or parking costs, or precious time. Research the area's public transportation system.
C

onsider a hostel

Staying in hostels may not be an excellent option for the USA due to the lack of quantity and quality, but in places like the Australia, France and Thailand the network is extensive, and the quality is top-notch.

Don't ever consider the hostels as just dorm rooms for backpackers. Many accommodations offer private and family rooms so they can be one of the best cheap alternatives to hotels.

Staying in several hostels with other travellers can be a great way to make new friends and to go for other adventurous endeavours.

Moreover, hostels in major cities of Australia are located close to public transport and tourist sites. A private or family room is typically cheaper than a hotel room, and they generally have cheap and free services such as Wi-Fi, laundry, luggage storage, fully-equipped kitchen facilities, and local tours to keep you occupied.

Always read the hotel reviews to get a better idea about the accommodation types, some properties, and even experience.
S

tay over Sunday

Almost all hotels receive their accommodation booking for Friday and Saturday from leisure travellers and Monday to Friday bookings from their business travellers. They are void of accommodation on Sunday which you can use for your advantage to possible get cheap accommodation.
B

ook rooms that offer free cancellation

Book hotels in advance at the best rate that you find online, then keep an eye on prices to see if you can get a better deal at another property, or even at the same hotel.

For example, many trip planning websites offer free cancellation on most rooms. Moreover, their book now, pay later policy allows you to lock in that rate with some flexibility.
C

heck the dining options

Always keep in mind the #1 as you know location is critical. While choosing where to stay, make sure you have access to local cafes and restaurants.

Staying near the city centre is always good as it is cheaper to walk to a nearby cafe or restaurant than dining in the hotel unless you get complimentary breakfast in your package.

"For example, if you are staying in one of the hotels near Sydney Olympic Park, you can get best options to dine as the locality has many restaurants and diners."

If you do want to eat in, check that does the hotel have a restaurant with reasonable prices? Do they have a kids menu? Do they have room service? Do they cater to your dietary needs?
R

esearch facilities

Always surf the website to learn about hotel's facilities like free Wi-Fi, free airport shuttle, complimentary breakfast, cable TV, laundry facilities, a pool, BBQ areas, private rooms with en-suites, a tour booking desk, 24-hour reception, etc.

If you are looking for apartments and suites, then always ask for refrigerator, microwave, coffee machine. Having a refrigerator and microwave can be great to store and reheat the leftovers which save you money on eating out. It is also great for families to store milk, juice, and yoghurts and other kids breakfast items to have on hand first thing in the morning.

All these features are beneficial when you're trying to save money on accommodation.
R

oom configuration

Prepare a list about who are you travelling with? Can you share beds to cut costs per head? For the family of four, get two double beds, or a queen and two singles. If you have a baby ensure that a portable cot is available.
D

elete your cookies

Whenever you search for cheap accommodation deals, use a different browser or go incognito before looking up prices a second time on a particular booking site.

Websites store the search data and when you visit again they know you are more likely to book as a repeat visitor and will charge you more.

Utilize these tricks to get the best deals whenever you are searching for Australian accommodation like Olympic Park Accommodation, Yaara Valley hotels, hotels near Great Ocean Road, etc.
C

heck for family deals

Always ask about discounted family rates, free meals for children, and an upgrade at check in – they can only say no.
U

se accommodation reward programs

If you are a frequent traveller who visits the same hotel chains or hotel booking sites, join their rewards or membership program.

To maximise your reward earnings, charge your hotel costs to your credit card tied to the rewards program to avail reward benefits. Many cards provide bonus points for spending, and the best cards also give you instant elite status in the hotel program, which means more bonus points.
T

ravel in the shoulder-season

"Do the prices of hotels differ in different seasons?"

Yes, of course!

One of the effective tips on how to find cheap accommodation is by travelling in the shoulder season, that period between the peak and off-peak season.

The accommodation costs will be lower, the weather will still be favourable, and in popular destinations, you'll avoid because of the large crowds can be easily accessible. It is also the perfect way to save money on flights and car rental. It's a win-win for you.

For example, when visiting Olympic Park, Sydney, consider going in September to November to get the best discounts on Olympic Park accommodation and avoid the peak summer seasons in December and January.
U

se Credit Card Reward Points

Check the program and benefits for your credit card; you might be able to use your reward points for accommodation costs. In Australia, the American Express card through the Commonwealth Bank allows the people to use reward points for booking travel.
F

ollow on social media

"LIKE", "COMMENT", and "SHARE" your favourite search sites on Facebook and follow them on Twitter. It's getting more common for sites to release cheap accommodation deals directly through their social media channels.
S

ign up for e-newsletter deals

Subscribe via email to your favourite booking sites and hotels. Many times they distribute deals and exclusive coupons only to their email subscribers and members.

If you are looking for Sydney Olympic Park accommodation, then your search is over as Liberty Plains Motel is here to take care of you. One of the best hotels near Sydney Olympic Park, we provide easy access to public transportation and other attractions like ANZ Park, Sydney Showground, etc. Visit Liberty Plains Motel website or call us and enjoy the stay of Sydney.